ALBERTO ORTEGA-TREJO

Mexican artist and architectural researcher based in Chicago, USA and Pachuca, Mexico.

His work uses architectural history, writing and video to address representations of indigeneity, the production of extreme environments and contemporary political struggles in the Americas. He has been a fellow of the Society of Architectural Historians and a grantee of the New Artists Society of the School of the Art Institute of Chicago, the Jumex Foundation for Contemporary Art and Andrew W. Mellon Foundation. His work has been shown in venues as Fundación Andreani for BienalSur, Ca' Foscari Zattere for the 16th Venice Architecture Biennale, Harun Farocki Institut, Chicago Design Museum, Extase, SITE Galleries, SpaceP11 and Centro de Arte y Filosofia.

He is currently the curator of The Last of Animal Builders, an exhibition at the Edith Farnsworth House, opening April 2, 2023. He manages the Katz Center for Mexican Studies at The University of Chicago.

Work by Alberto Ortega at Rhona Hoffman Gallery in Chicago.


Architecture
Exhibition Strategy
Research and Publication
Design Consultancy

Keep scrolling for selected projects ↆ

Agua Muy Vieja Del Lugar Espantoso
For Rhona Hoffman Gallery in Chicago
As part of Gentle Content, a group show curated by Rhona Hoffman Gallery Director, Julia Birka-White
"Alberto Ortega Trejo's contributions to Gentle Content were prompted by recent news events that illuminate class struggles — specifically in his home country of Mexico — in addition to his research regarding Indigenous Mexican cosmologies. When creating these new objects, Ortega Trejo considered the deadly 2019 explosion in Tlahuelilpan, Mexico of a pipeline owned by Pemex, the state oil company. The illegal extraction, possession, and sales of thefted fuel has been a long standing issue in the country, the result of larger class and economic disparities affecting sites of mineral extraction and oil processing as is the case of Tlahuelilpan, an Otomí territory. Ortega Trejo's metal figurative cut-outs adhere to the wall, and similar to Bredar's painted suspended heads are disjointed and cut off from their whole. Discernable is an amputated leg referencing the overcirculation of violent image in contemporary Mexico while engaging with Otomí God-making practices. Next to it, a nebulous form that is actually an alcohol sack, hovers among other silhouettes. The alcohol sacks the artist is referencing are used for pulque (a traditional Mexican alcoholic drink of fermented agave nectar) storage and typify the effect of alcoholism on colonized Indigenous communities globally. Additionally, six charcoal on sandpaper drawings mounted on metal plates and organized in a grid unite to form an atlas bone. Interested in bones and the practice of their display in sacred and communal spaces in Central Mexico as well as in their political and forensic register, Ortega Trejo's precise drawing could be read as a warning or a sign of perpetuation and regeneration."
Julia Birka- White, Director of Rhona Hoffman Gallery
Installation views: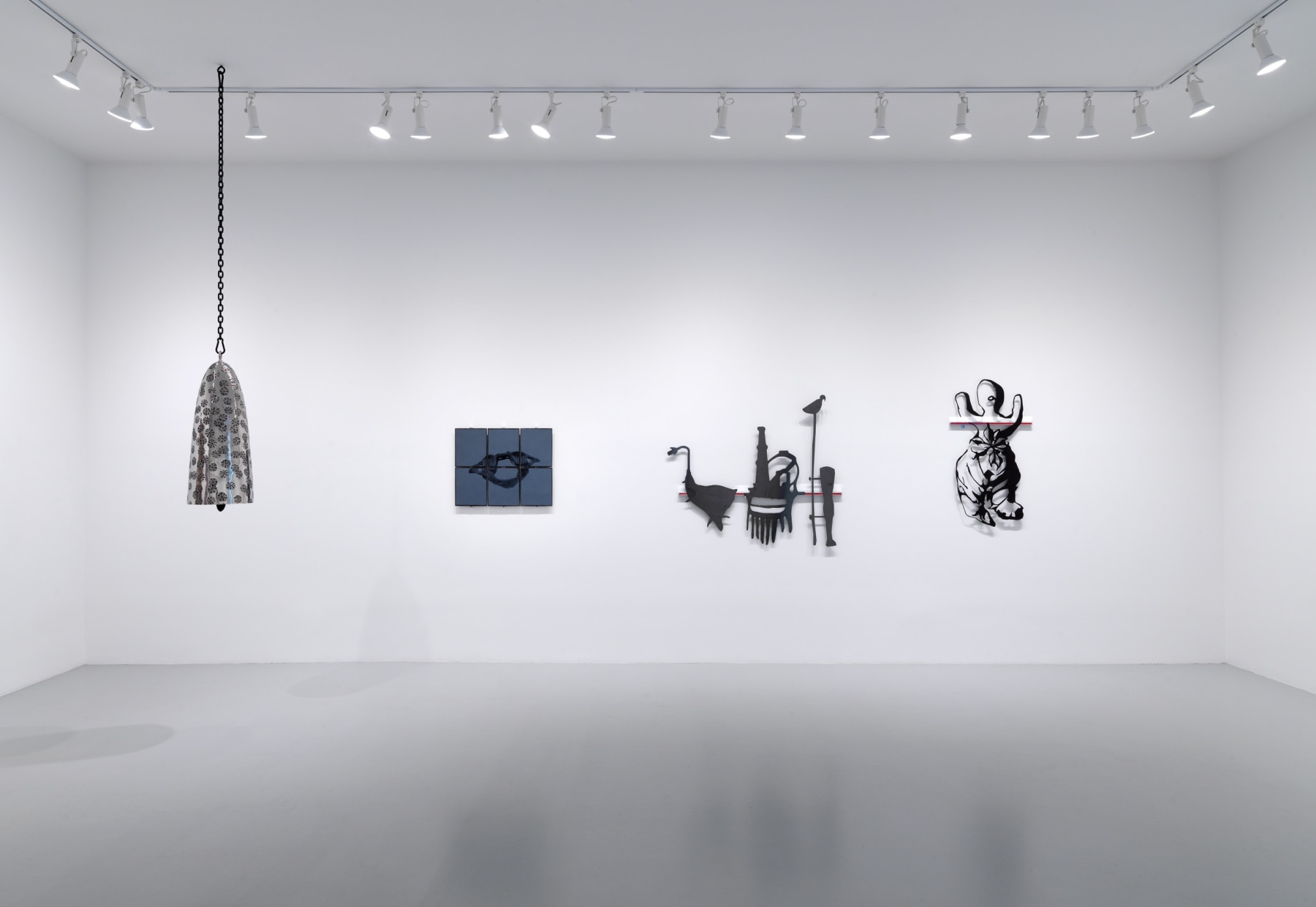 Davina Semo and Alberto Ortega Trejo, Gentle Content - Rhona Hoffman Gallery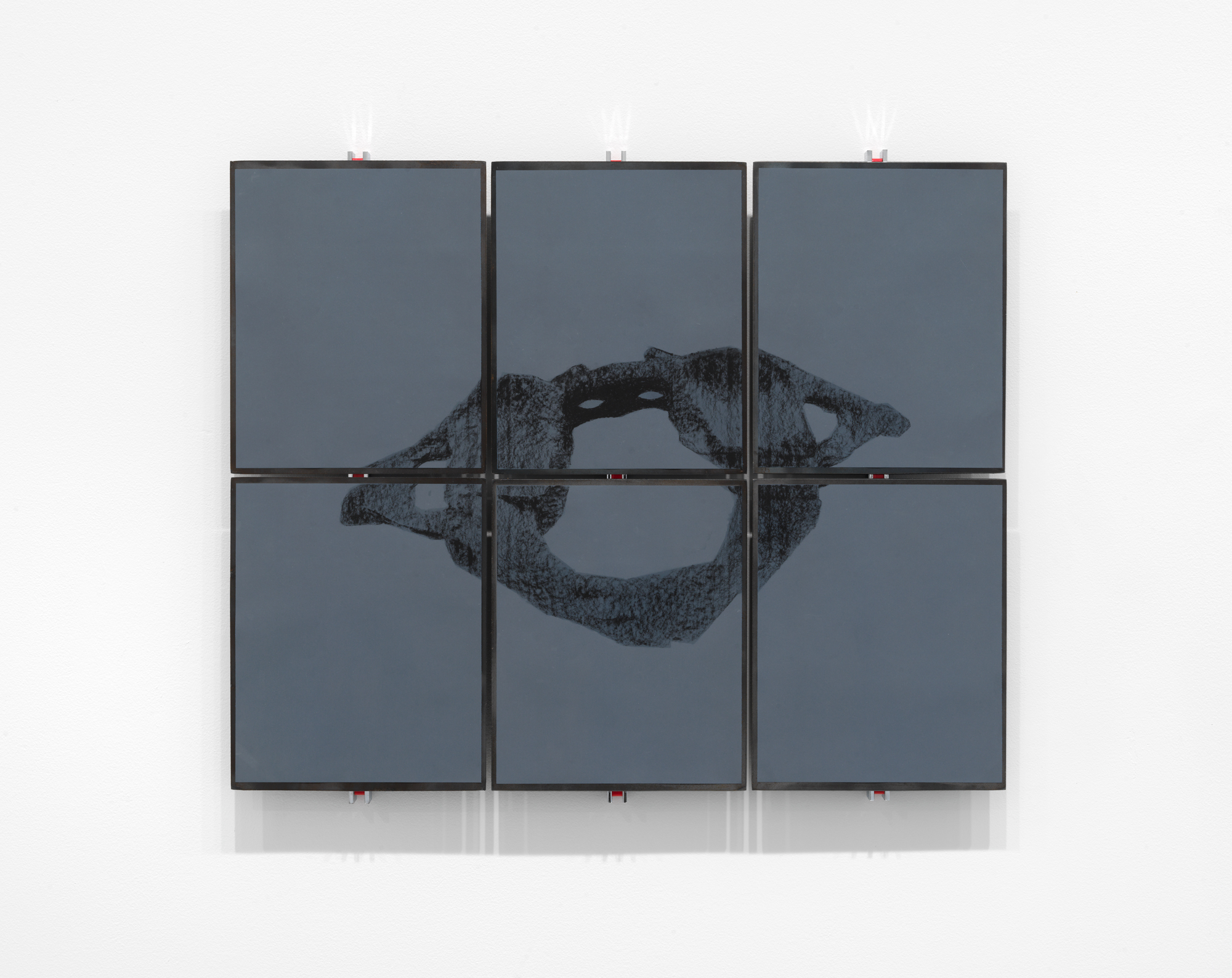 Cuando no nos dan fiebres, nos dan dolores en los huesos
(When they don't give us fevers, they give us pains in the bones)
, 2022 - Charcoal on abrasive paper, metal plates, and magnets
24 x 29 inches
Agua muy vieja del lugar espantoso
(Very old water from the terrible place)
, 2022 - Plasma cut metal plates and magnets
45 x 54 inches
Piedra de esqueleto, pesadilla de flor
(Skeleton stone, plant nightmare)
, 2022 - Plasma cut metal, high heat coating, and magnets. 44 x 24 inches
Las Aguas Bajan Turbias
For BienalSur
A Fragment of a building that does not exist.
With Andrea Hunt
This exhibition is comprised of El Mundo Debajo and El Espejo Otomí. El Mundo Debajo is an experimental documentary that traces the Mexican Modern state's representation of indigeneity through the making of Mexico City's sewage system. The video is projected over four prefabricated concrete panels. El Espejo Otomí is a sculpture consisting of eight concrete casts of a maguey leaf acting as a cladding system for a metal structure. This fragment takes a traditional building method of the Otomi region in Hidalgo to the material language of modernity. The Otomí region receives Mexico City's black waters and has been historically exploited for minerals for the production of cement, a key element for the infrastructural transformations of Mexico City. This work was produced for BienalSur, curated by Leandro Martinez Depietri and Benedetta Casini and installed at Fundación Andreani in Buenos Aires, Argentina.
The research for this project was funded by the
American Institute of Architects
and
MIT's Global Architecture History Teaching Collaborative.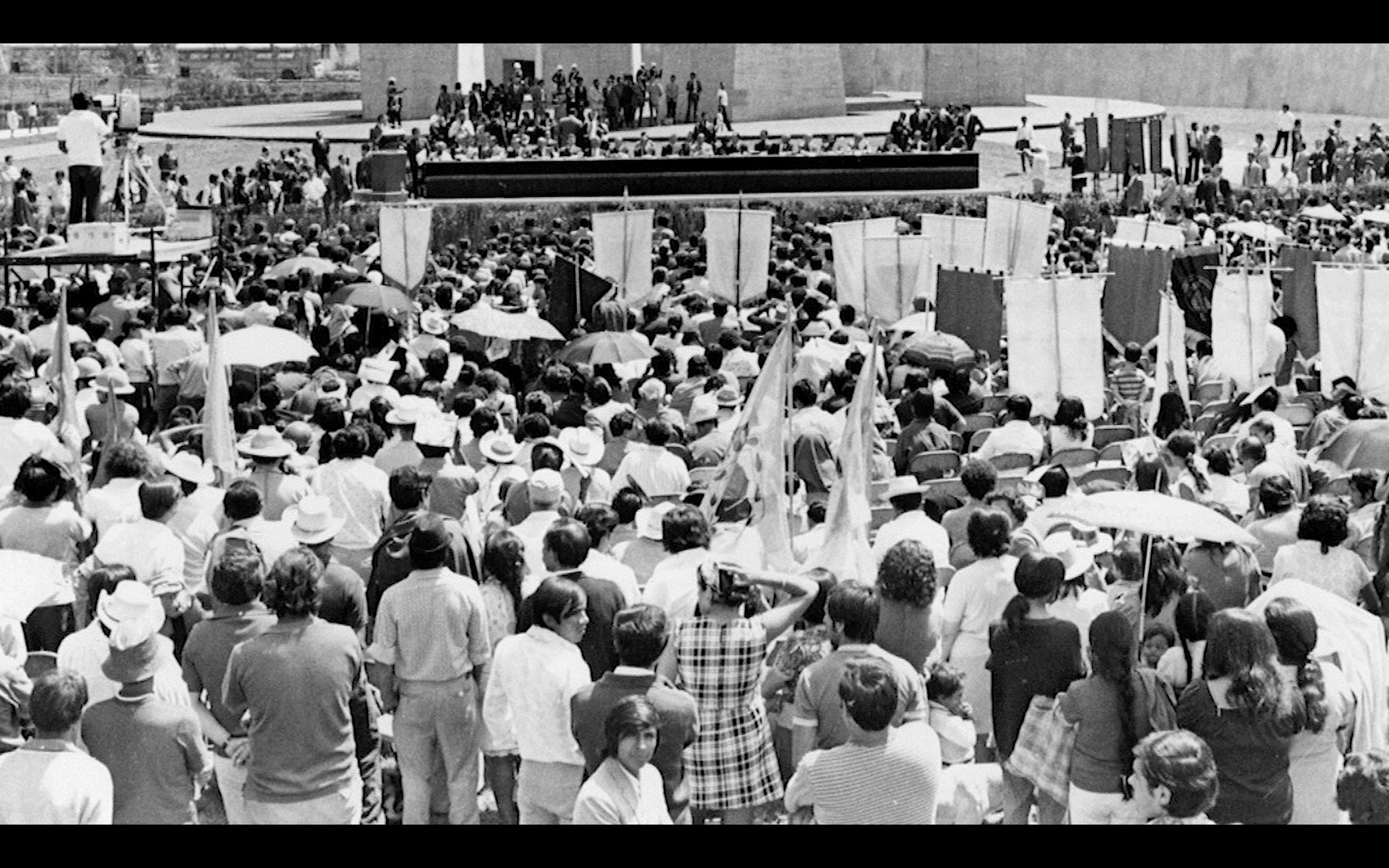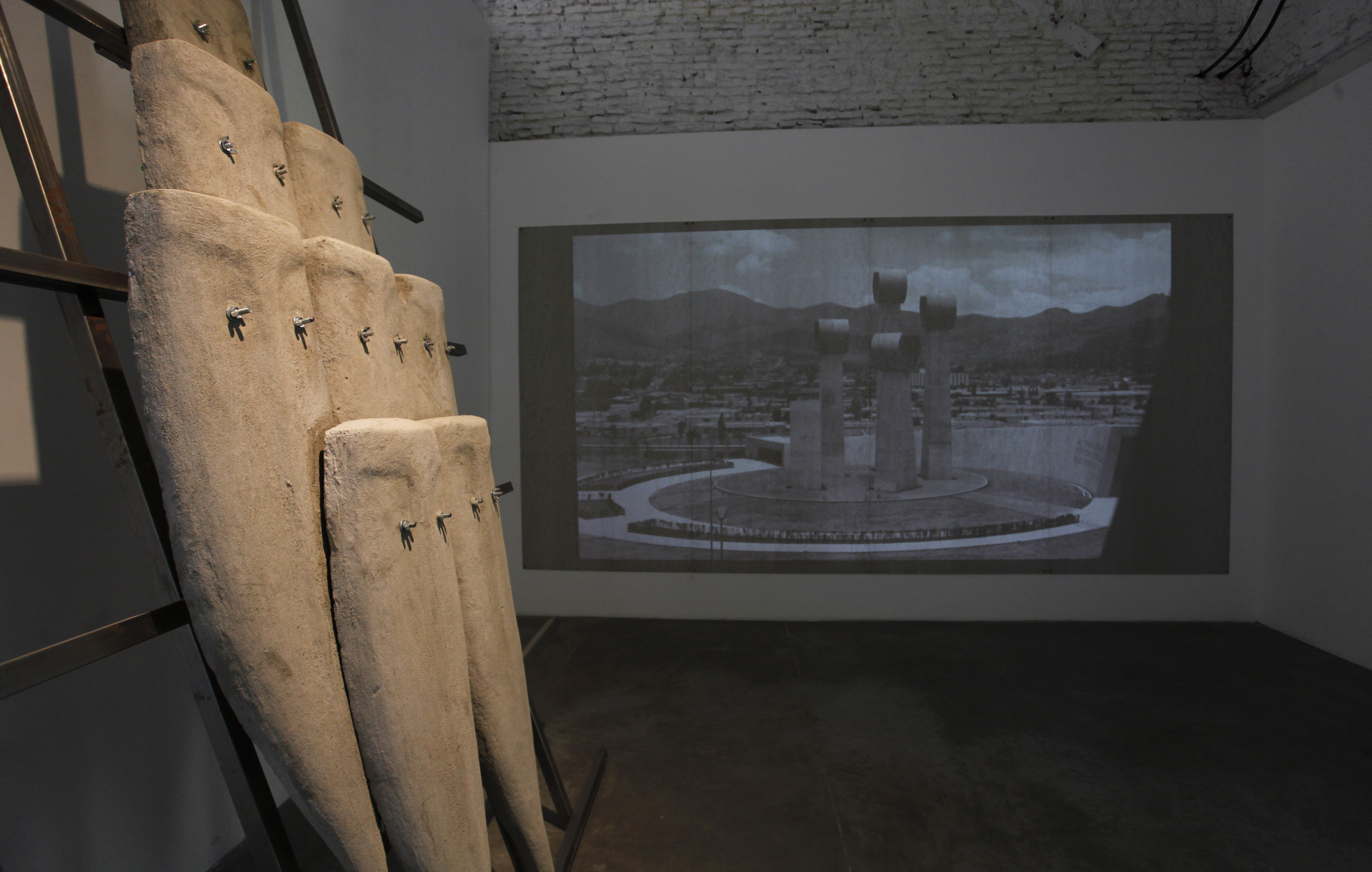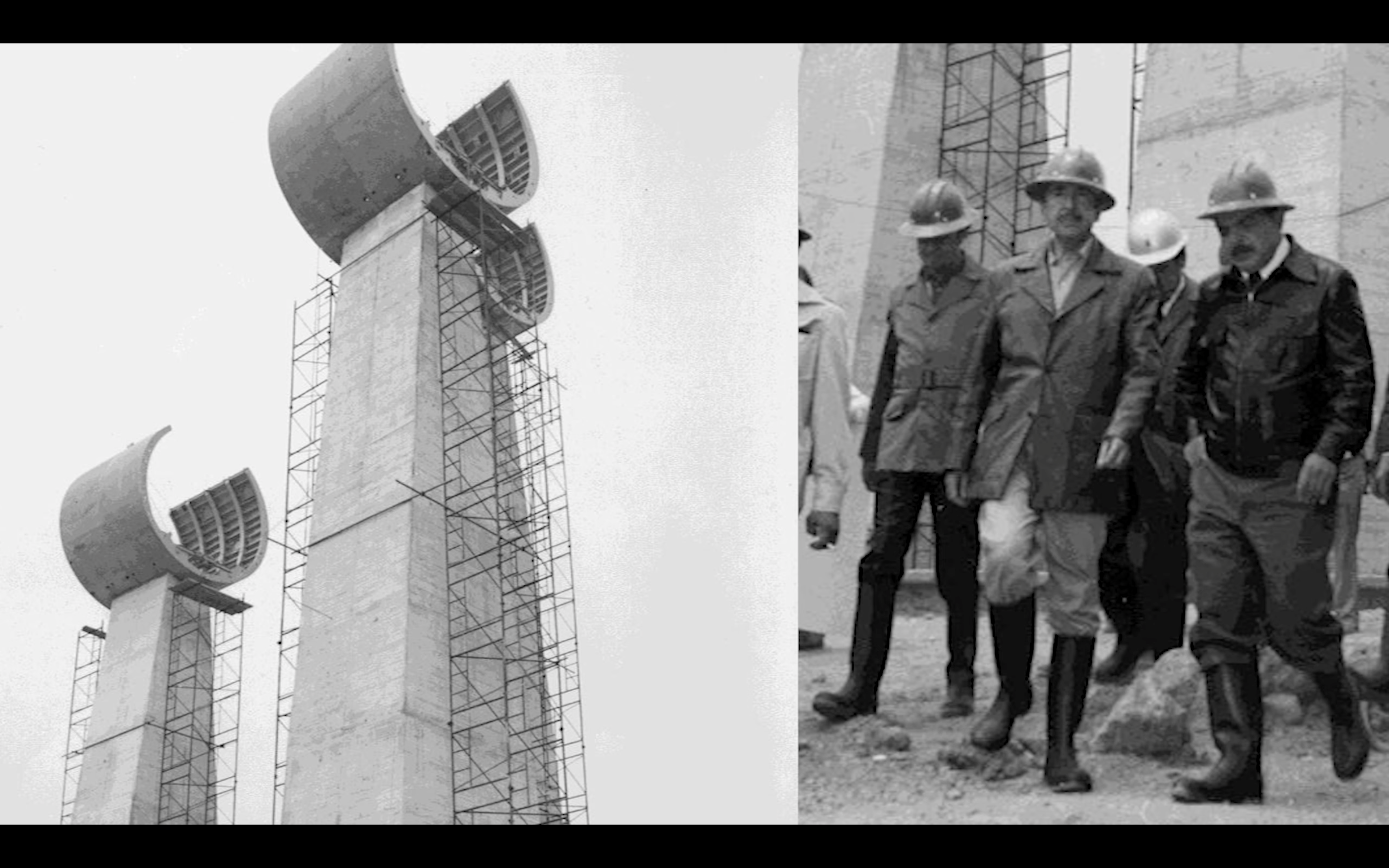 Media Stations for Pilsen
W/ Inga
Exhibition Strategy and Public Space Intervention

Media Stations for Pilsen is a series of three urban scale sculptural platforms that will allow the Pilsen community to create and engage in outdoor artistic and leisure events during the Summer of 2021. Each Media Station will center on a specific sensorial quality to be the main focus for the content and events it will host: Sonic, Visual and Tactile.

The Sonic Station is a mobile sound system that will host listening sessions curated by artist Eduardo F. Rosario, block parties, karaoke sessions and sonideros programmed by neighbors and community members.

The Visual Station consists of a mobile screening platform that will be used for outdoor lectures, artist talks and movie screenings curated by Pilsen based cineclub filmfront.

The Tactile Station is an outdoor working table and meeting place to host reading groups, random encounters and artist led workshops coordinated by Pilsen based publishing platform Inga.


Each station can stand alone and be combined to allow multimedia experiences.

Post National Pavilions
W/ Maite Borjabad and Agustin Schang
This proposal was formally submitted to and rejected by the selection committees of Mexico, Spain and Argentina for the 17th Venice Architecture Biennale: How will we live together?

This proposal articulates the possibility of three countries hosting the same exhibition and case studies at the same time during the Venice Biennale. It proposed to revise and commision new work to multidisciplinary teams addressing the colonial legacy of Spain in Latinamerica and vice-versa through a series of specific cases of monuments, maps and public spaces in both continents that speak of the constant tension between both perspectives of the colonial encounter.

The pavilions would share a common imaginary ground in the form of the Magallanes-El Cano route map drawn and divided on the floor of the three countries. While props and scenery would create the objectual components of a mobile theater of spatial operations.



From Outer Space to Public Space
On alienation and public space
Public Performance and Videoinstallation
From Outer Space to Public Space is an experimental panel for a discussion on racism, alienation, the future of the city and the legacies of Afrofuturism to re-think public space-time occupation. It took place inside Chicago's CTA Red Line, an axis that makes evident racial segregation and infrastructural disparities.

Thanks to Ann Lui, Shiben Banerji, Ytasha Womack, Delinda Collier and Rohan Ayinde.
Filming crew: Julia Lopes and
Kexin Li