ALBERTO ORTEGA-TREJO

Mexican artist and architectural designer based in Chicago, USA and Pachuca, Mexico.

His work uses architectural design, writing and video to address representations of power and marginality in the Mexican State and the Americas. He has been a grantee of the New Artists Society of the School of the Art Institute of Chicago, the Jumex Foundation for Contemporary Art and Andrew W. Mellon Foundation. His work has been shown in venues as Fundación Andreani for BienalSur, Ca' Foscari Zattere for the 16th Venice Architecture Biennale, Harun Farocki Institut, Chicago Design Museum, Extase, SITE Galleries, SpaceP11 and Centro de Arte y Filosofia.

He is currently an IDEAS Fellow at the Society of Architectural Historians under the mentorship of Spyros Papapetros (Associate Professor of Theory and History of Architecture, Princeton University School of Architecture), a Creative in Residence at the Edith Farnsworth House and manages the Katz Center for Mexican Studies at The University of Chicago.

Now on view, work by Alberto Ortega at Rhona Hoffman Gallery in Chicago.


Architecture
Exhibition Strategy
Research and Publication
Design Consultancy

Keep scrolling for selected projects ↆ

Media Stations for Pilsen
W/ Inga
Exhibition Strategy and Public Space Intervention

Media Stations for Pilsen is a series of three urban scale sculptural platforms that will allow the Pilsen community to create and engage in outdoor artistic and leisure events during the Summer of 2021. Each Media Station will center on a specific sensorial quality to be the main focus for the content and events it will host: Sonic, Visual and Tactile.

The Sonic Station is a mobile sound system that will host listening sessions curated by artist Eduardo F. Rosario, block parties, karaoke sessions and sonideros programmed by neighbors and community members.

The Visual Station consists of a mobile screening platform that will be used for outdoor lectures, artist talks and movie screenings curated by Pilsen based cineclub filmfront.

The Tactile Station is an outdoor working table and meeting place to host reading groups, random encounters and artist led workshops coordinated by Pilsen based publishing platform Inga.


Each station can stand alone and be combined to allow multimedia experiences.

Post National Pavilions
W/ Maite Borjabad and Agustin Schang
This proposal was formally submitted to and rejected by the selection committees of Mexico, Spain and Argentina for the 17th Venice Architecture Biennale: How will we live together?

This proposal articulates the possibility of three countries hosting the same exhibition and case studies at the same time during the Venice Biennale. It proposed to revise and commision new work to multidisciplinary teams addressing the colonial legacy of Spain in Latinamerica and vice-versa through a series of specific cases of monuments, maps and public spaces in both continents that speak of the constant tension between both perspectives of the colonial encounter.

The pavilions would share a common imaginary ground in the form of the Magallanes-El Cano route map drawn and divided on the floor of the three countries. While props and scenery would create the objectual components of a mobile theater of spatial operations.



From Outer Space to Public Space
On alienation and public space
Public Performance and Videoinstallation
From Outer Space to Public Space is an experimental panel for a discussion on racism, alienation, the future of the city and the legacies of Afrofuturism to re-think public space-time occupation. It took place inside Chicago's CTA Red Line, an axis that makes evident racial segregation and infrastructural disparities.

Thanks to Ann Lui, Shiben Banerji, Ytasha Womack, Delinda Collier and Rohan Ayinde.
Filming crew: Julia Lopes and
Kexin Li Las Aguas Bajan Turbias
For BienalSur
A Fragment of a building that does not exist.
With Andrea Hunt
This exhibition is comprised of El Mundo Debajo and El Espejo Otomí. El Mundo Debajo is an experimental documentary that traces the Mexican Modern state's representation of indigeneity through the making of Mexico City's sewage system. The video is projected over four prefabricated concrete panels. El Espejo Otomí is a sculpture consisting of eight concrete casts of a maguey leaf acting as a cladding system for a metal structure. This fragment takes a traditional building method of the Otomi region in Hidalgo to the material language of modernity. The Otomí region receives Mexico City's black waters and has been historically exploited for minerals for the production of cement, a key element for the infrastructural transformations of Mexico City. This work was produced for BienalSur, curated by Leandro Martinez Depietri and Benedetta Casini and installed at Fundación Andreani in Buenos Aires, Argentina.
The research for this project was funded by the
American Institute of Architects
and
MIT's Global Architecture History Teaching Collaborative.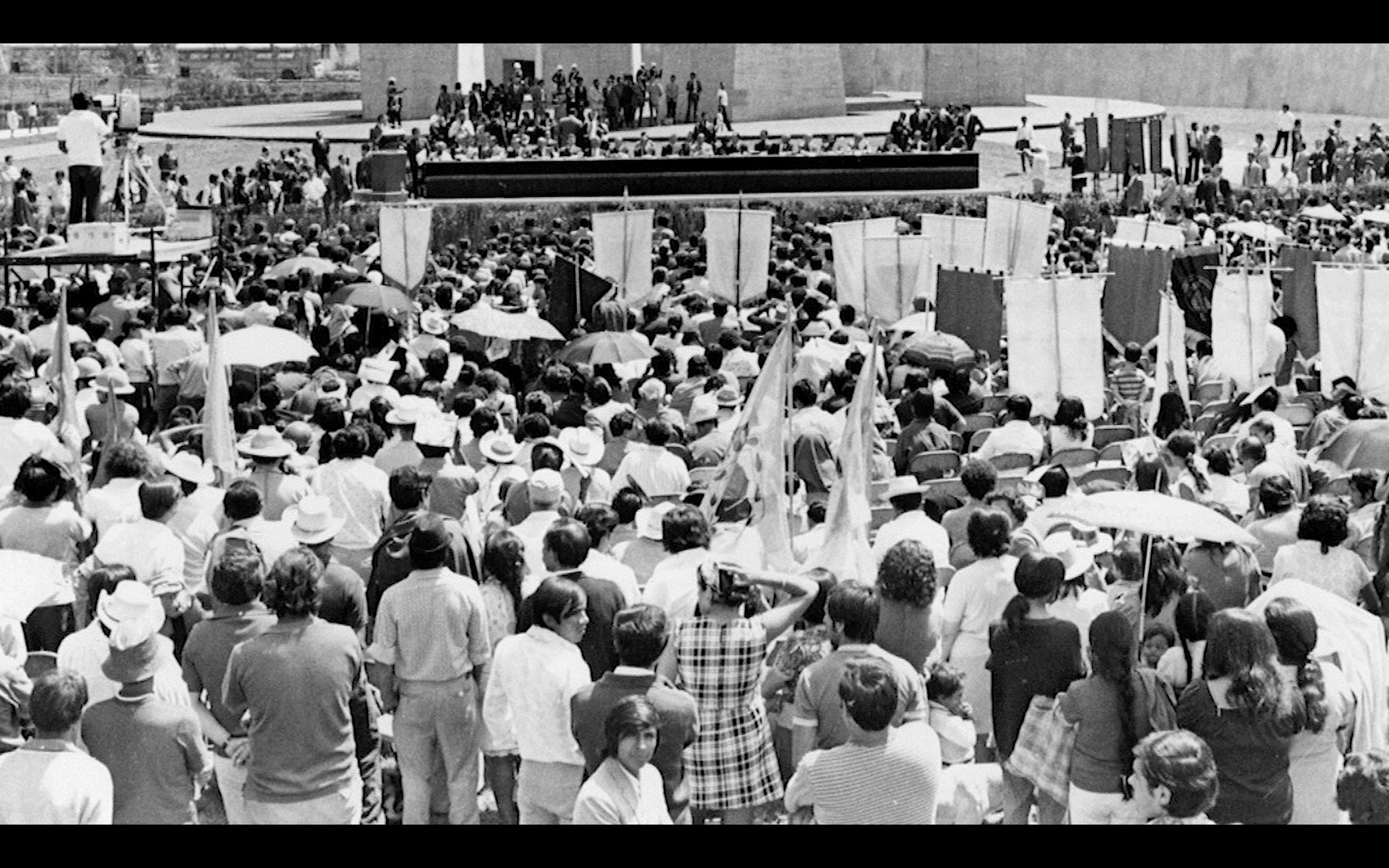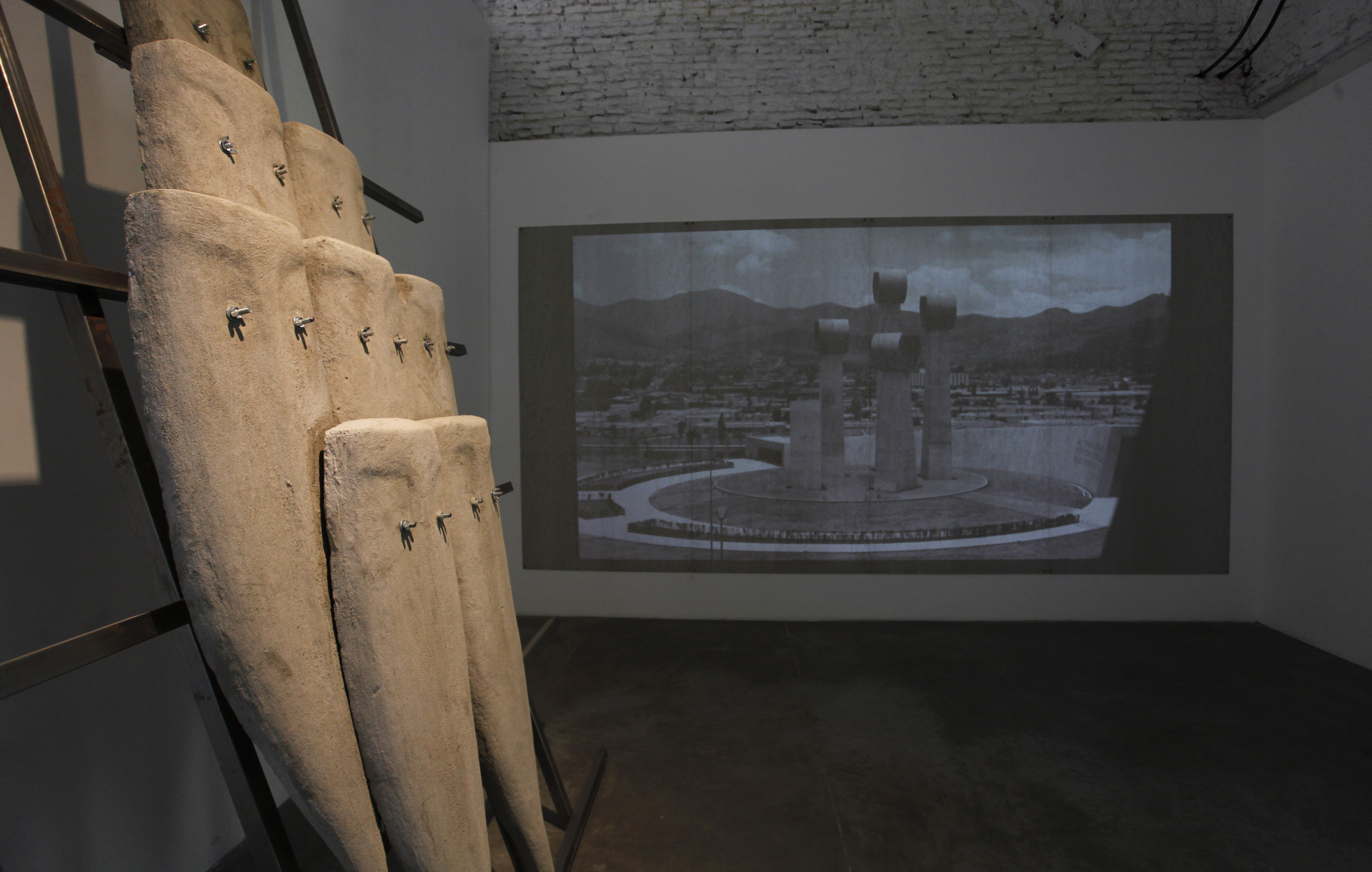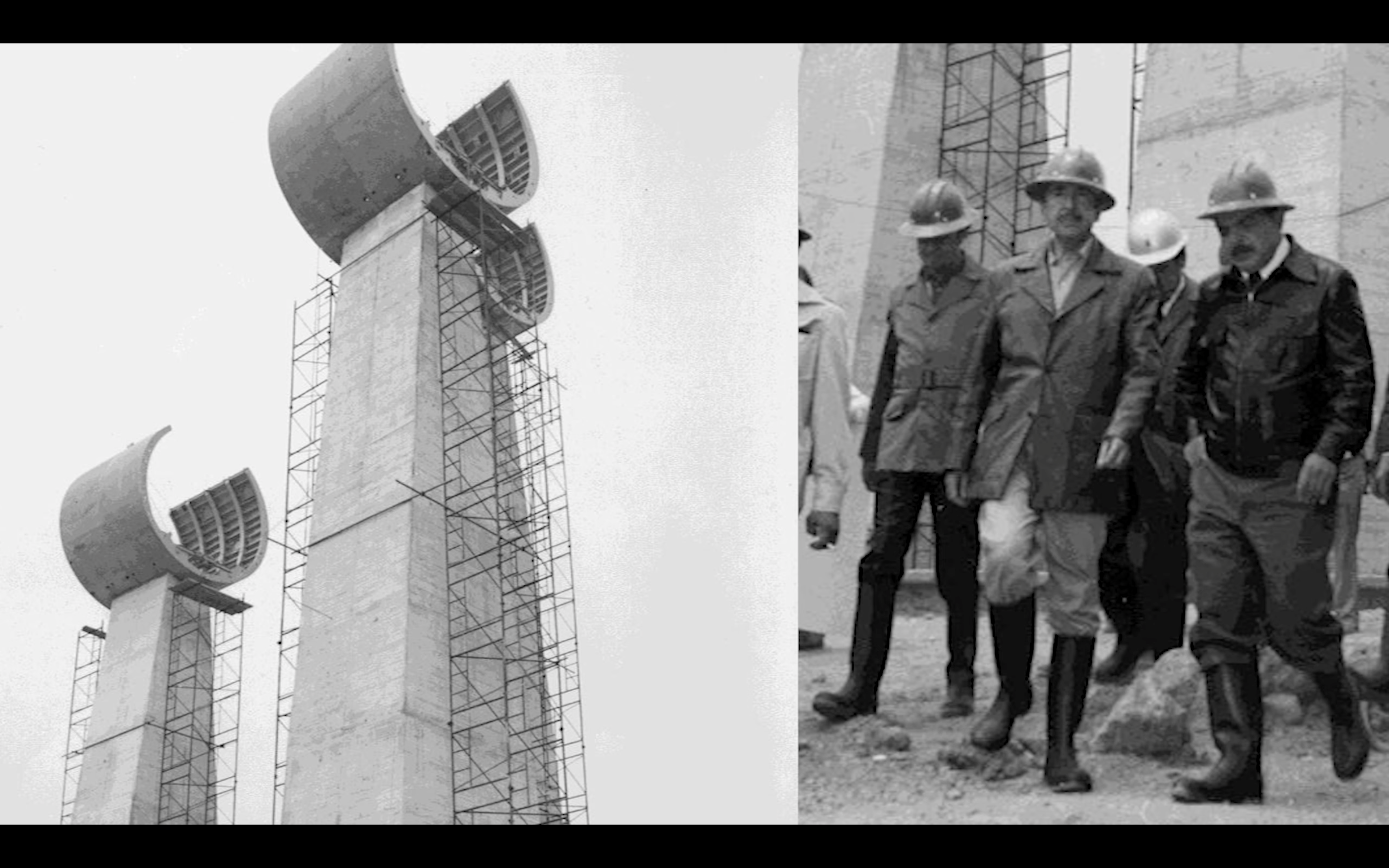 Department of Bi-National Affairs
At Infernal Court - Extase Chicago
Department of Bi-National Affairs happens as an unexpected response to Ortega's participation in the open call for Border Wall Designs requested by the Department of Homeland Security. Ortega was a member of MADE Collective, the team that proposed to create a new country called

Otra Nation

, shared by Mexico and the USA. The video presents a rant recorded by a videoblogger from Texas that believed that the proposal was actually due to happen and would subsequently dismantle the border. While reading the proposal in its entirety and choking back anger, the woman asks for Donald Trump's help in "stopping this madness." In an attempt to engage in a conversation with a delusional far right reality, Ortega sent a letter to this person pretending to be the new director of Bi-National Affairs for this new nation. There was no response to the letter and the video was removed from the platform afterwards.
-From Press Release for Infernal Court.

For Infernal Court, at Extase Chicago, Ortega repurposed and edited the content of her response into a series of slogans shown on a TV. The font used for the slogans is Joanna Nova, a typeface designed by Eric Gill, known sexual predator and pedophile. Joanna Nova is used for the official branding of the Department of Homeland Security of the USA.
This project is a parallel outcome from the Otra Nation proposal that MADE Collective (from which I was part of) formally submited to the Open Call for designing the US-Mex Border wall asked by the Trump Aministration. Our team proposed the creation of a new country between Mexico and the US, a sort of Utopian Chicano country called Otra Nation that would join both countries as a borderless buffer zone connected by a bi-national Hyperloop.